Via: https://thinkprogress.org/500-million-to-gcf-306414ccc909#.nhpgh0on4
Days before Trump takes office, State Department gives $500 million to UN Green Climate Fund
The announcement is expected to prompt a backlash.
The State Department announced Tuesday it would transfer $500 million to the United Nations' Green Climate Fund (GCF), likely irking Republican lawmakers while keeping what commitments it can to the international community before President-elect Donald Trump takes office on Friday.
"The Green Climate Fund is a critical tool that helps catalyze billions of dollars in public and private investment, in countries dealing not only with the challenges of climate change, but the immense economic opportunities that are embedded in the transition to a lower-carbon economy," a spokesman said.
Under President Obama, the United States pledged $3 billion to the fund, which supports low-carbon and resilience projects in developing nations. Environmental groups and a network of faith-based groups applauded the decision, which brings the total U.S. contributions so far to $1 billion.
But it's not clear if the other $2 billion will ever appear.
Trump has pledged to cut all spending to international climate projects, including payments to the UN fund. His transition team has also questioned how much money the State Department spends on environmental issues abroad.
#
With 3 Days Left, Obama Gives Another $500 Million To The UN's Green Fund
The Department of State sent another $500 million to the United Nations "Green Climate Fund" Tuesday, marking yet another last-minute move to cement President Barack Obama's legacy before he leaves office in three days.
Obama pledged $3 billion to the Green Climate Fund (GCF) in 2014, but has only sent $1 billion to the program. The administration sent its first $500 million payment to the GCF in March.
#
Related Links: 
UN Green Climate Fund has more money than projects
State Dept's $500 Million Transfer to the UN's 'Green Climate Fund'
Last week, the Obama administration transferred $500 million in U.S. funds to the United Nations' Green Climate Fund. Congress never authorized the Green Climate Fund or any appropriations to it. The State Department must fully account for how it decided to give taxpayer dollars to a U.N. fund that Congress never authorized.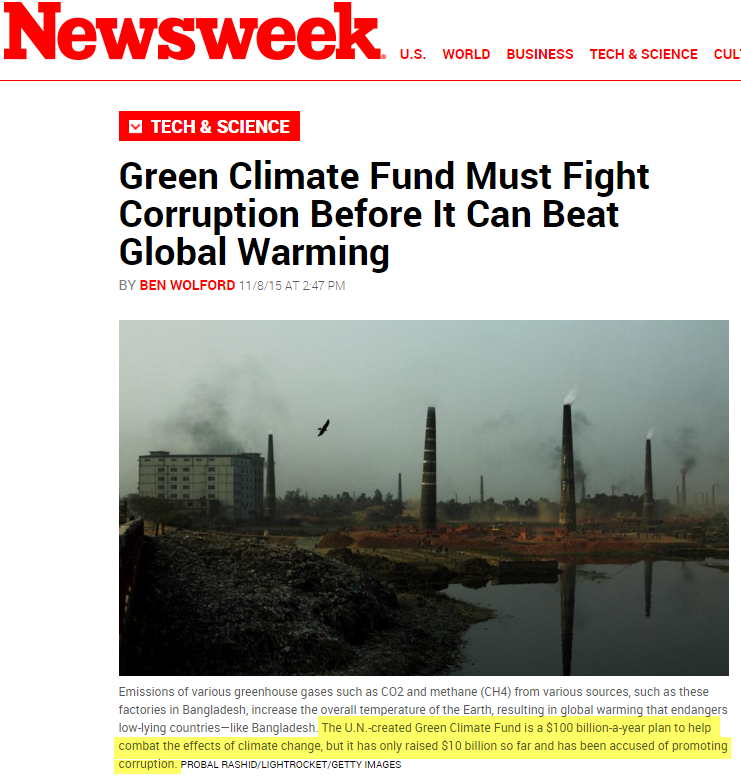 'The U.N.-created Green Climate Fund is a $100 billion-a-year plan to help combat the effects of climate change, but it has only raised $10 billion so far and has been accused of promoting corruption'