Dawn was breaking when the campaigners used slingshots to fire ropes on to the rig. But as they began to scale the Prirazlomnaya, aiming to unfurl a banner denouncing Russia's attempts to drill for oil in the Arctic, their hopes of another successful Greenpeace "action" swiftly faded. They had been anticipating high-pressure hoses that sprayed freezing seawater at intruders. They weren't prepared for balaclava-wearing soldiers shooting at their inflatable boats.
One soldier grabbed the rope used by one of the climbers, slamming her body repeatedly against the rig. They captured two other activists. Then the Russians demanded to board the Greenpeace ship. But the Arctic Sunrise's captain, Peter Willcox, fearing his boat would be seized, resisted.
"I said, 'Well, go ahead – open fire. But don't hit that silver tank back near the stern because that's gasoline and that's going to blow us all up.' They must've been thinking, 'Who the fuck is this idiot?' And then I was sitting in jail thinking, 'Who was that idiot?' But the adrenaline gets flowing."
Willcox's account of his 2013 jailing, alongside 27 other Greenpeace activists and two journalists, might resemble a terrifying gangster film – except that the gangsters were in government. His memoir also documents four decades of peaceful direct action against everything from whaling off Peru to incinerator ships in the North Sea, and shows how many protests eventually trigger policy change. But it's harder to detect positive outcomes from the jailing of the "Arctic 30". Although Greenpeace went on to successfully oppose Shell's drilling in the Arctic, other companies have continued, and millions of barrels of oil continue to flow from the far north. As a new political era dawns, bringing the prospect of unprecedented US-Russia collaboration over the Arctic's exploitation, Willcox is clear that the fight against climate change is only just beginning.
"I'm not sure I've held on to my optimism," says the 63-year-old American, when we meet in London between his continuing missions skippering Greenpeace ships on "actions" around the world. "I'm not stopping work. I'm not giving up. I don't want to give Planet Earth to [Trump's nominee for US secretary of state] Rex Tillerson. But my optimism is not very high right now. Not when you've seen what I've seen."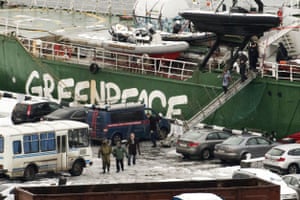 When Willcox was first captured by the Russians on 19 September 2013, he was optimistic, at least about his team's prospects. He assumed they would get "yelled at for three or four days" before being dispatched over the border to Norway. But despite the ship being in international waters, armed Russian special forces had shimmied down ropes from helicopters to take over the ArcticSunrise and tow it into custody. As if that wasn't enough, the Russian commandos seized all the alcohol on board and had a "massive party" among themselves on their way to Murmansk.