By Julia A. Seymour
Critics gave former Vice President Al Gore grief for predicting in An Inconvenient Truth that major cities including lower Manhattan would be underwater if severe ice melt occurred.
Now Gore is rewriting history to claim his prediction came true in promotion footage of his upcoming film, An Inconvenient Sequel: Truth to Power, which debuted at Sundance on Jan. 19.
In this case, context is the difference between honesty and self-interested revisionism.
In his 2006 film, Gore warned, "If Greenland broke up and melted or if half of Greenland and half of West Antarctica broke up and melted this is what would happen to the sea level in Florida [animation shown with much of the state underwater]."
Immediately, after showing Florida, Gore showed animations of drowning cities and countries: San Francisco, The Netherlands, Beijing, Shanghai, Calcutta and then Manhattan.
"But this is what would happen to Manhattan, they can measure this precisely," Gore warned as he showed his audience much of the city underwater, including the area where the memorial would be built.
Now, he's twisted his original words to make it appear his prediction about Manhattan came true.
"Ten years ago when the movie An Inconvenient Truth came out, the single most criticized scene was an animated scene showing that the combination of sea level rise and storm surge would put the ocean water into the 9/11 memorial site, which was then under construction. And people said, 'That's ridiculous. What a terrible exaggeration," Gore claimed in a newly released clip from An Inconvenient Sequel: Truth to Power. [Emphasis added]
In that clip, Gore then shows "Superstorm Sandy" footage of water flooding lower Manhattan, including the memorial site and a quote from Gov. Andrew Cuomo blaming climate change, to prove true Gore's claim from 11 years ago.
But his original prediction was not about extenuating circumstances of a storm like Sandy slamming into New York or any "storm surge" at all. It was about the sea level rise that would be generated as (he predicted) ice melt in Greenland and Antarctica escalated dramatically.
The latest maps show that Greenland still has ice 11 years after Gore's prediction of catastrophic melt due to global warming.
What's worse than Gore's rewrite of history is that online media not only aren't exposing it, they're perpetuating the distortion. EcoWatch reported on Jan. 23, "Al Gore's Prediction Came True." SlashFilm.com …
NOAA says that nearly a foot of rain in one day in Louisiana confirms their models showing man-made climate change has increased the odds of floods.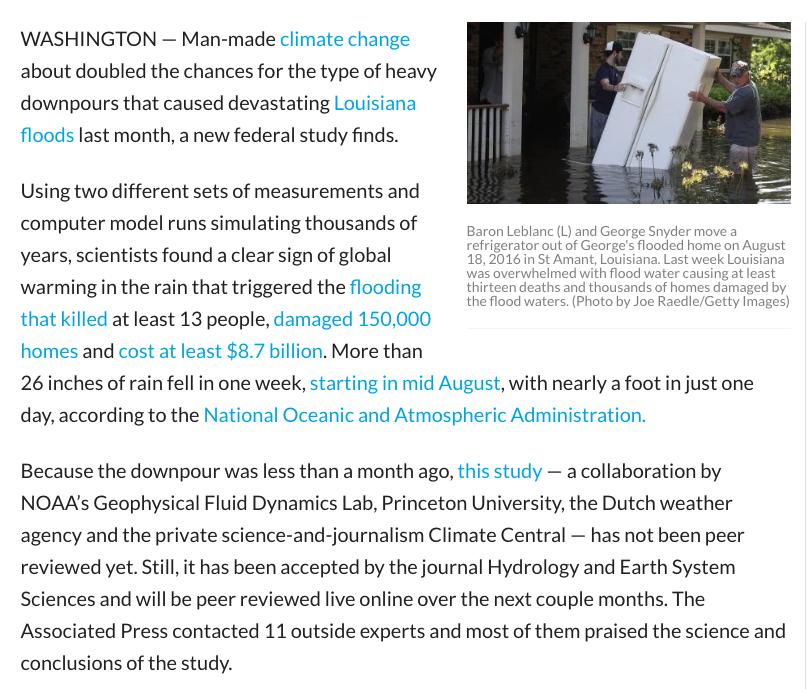 NOAA: Climate Change increased odds for Louisiana downpour | FOX 61
On April 15, 1927 New Orleans got 15 inches of rain in 18 hours during the largest flood in US history.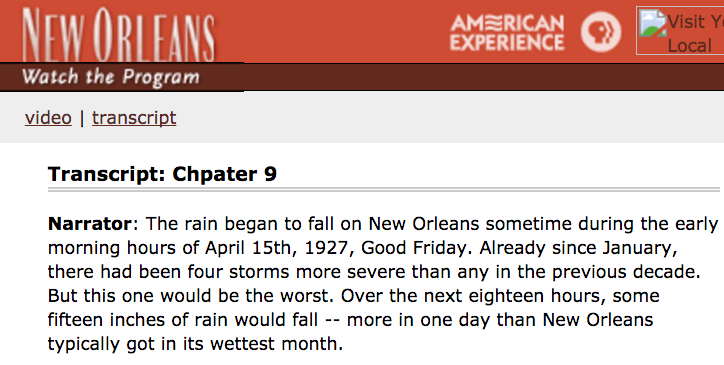 American Experience | New Orleans | PBS
New Orleans was founded in 1717, against the objections of the chief engineer who said it flooded all the time.


NOVA | Storm That Drowned a City | A 300-Year Struggle | PBS
There has been no increase in heavy rain.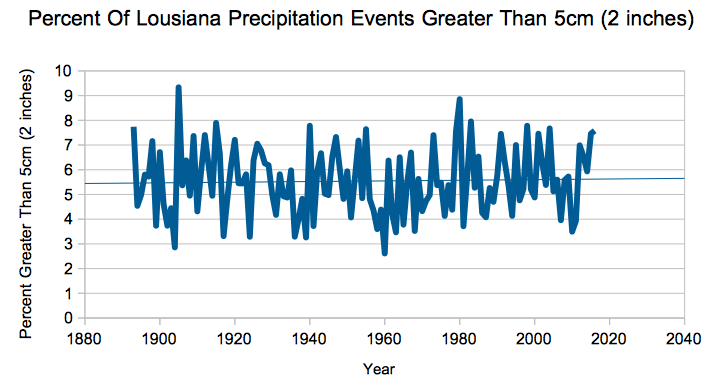 The NOAA study has no scientific basis, and ignores all available actual data. Software models can be written to produce any result the author wants to produce. They are not evidence of anything other than deep corruption at NOAA.…