http://www.newsbusters.org/blogs/business/aly-nielsen/2017/05/04/cjr-finds-scientific-opposition-linking-hurricanes-and-global
By Aly Nielsen |
A surprising report from the George Soros-funded Columbia Journalism Review (CJR) revealed several scientists oppose the way the media have tried to blame hurricanes on man-made climate change.
CJR used the Freedom of Information Act (FOIA) to acquire emails "sent from or received by six hurricane researchers or forecasters" which included the terms "global warming" or "climate change." The May 2, article written by Rob Verger indicate CJR was looking to see how scientists talked to the media about Hurricane Alex and "whether climate change should be blamed." Verger said the emails showed a "heated online discussion among scientists."
Because it was far earlier than a typical hurricane, Alex drew attention to itself and media climate alarm. The Washington Post described it Alex as "rare," and turned to Weather Underground's Jason Masters who tried to make the global warming point.
"It is unlikely that Alex would have formed if these waters had been close to normal temperatures for this time of year," Masters wrote (and the Post quoted).
Christian Science Monitor was even more blunt, asking in its headline "Is climate change to blame for rare January hurricanes?"
"With the unusual occurrence of Hurricane Alex as an out-of-season hurricane, there have been a couple of meteorologists stating to the media that manmade global warming helped to cause the hurricane. Such statements are not, in my opinion, factual." National Hurricane Center science and operations officer Chris Landsea said in a Jan. 18, 2016, email acquired by CJR.
Landsea told CJR he was similarly disturbed by how strongly former vice president Al Gore linked Hurricane Matthew to climate change in October 2016. Gore's claims made Landsea "cringe, because there's some links but it's much much more subtle than he is insinuating."
Hurricane Matthew wasn't the only thing Gore has gotten wrong. After his climate alarmist film An Inconvenient Truth was released in 2007, a British court identified at least eleven material falsehoods, including attributing Hurricane Katrina to climate change.
In promotional footage of Gore's follow up film, An Inconvenient Sequel, slated for July 2017, release Gore twisted and rewrote his earlier claims about what would cause massive global flooding including flooding of New York City in order to try to claim Hurricane Sandy proved him right.
While CJR's report cited stories written by The Washington Post and Christian Science Monitor erroneously linking specific hurricanes to …
Climate Depot Special Report
The federal government has just released yet another key piece of scientific data that counters the man-made global warming narrative. The federal U.S. Drought Monitor report shows that droughts in the U.S. are at record lows in 2017. See: Feds: U.S. drought reaches record low in 2017 as rain reigns – Sees lowest levels of drought ever monitored
"Drought in the U.S. fell to a record low this week, with just 6.1% of the lower 48 states currently experiencing such dry conditions, federal officials announced Thursday. That's the lowest percentage in the 17-year history of the weekly U.S. Drought Monitor report," USA Today reported on April 27. (Ironically, climate activists had declared California to be in a permanent drought: Flashback 2016: Warmist wrong claim: 'Thanks El Niño, But California's Drought Is Probably Forever')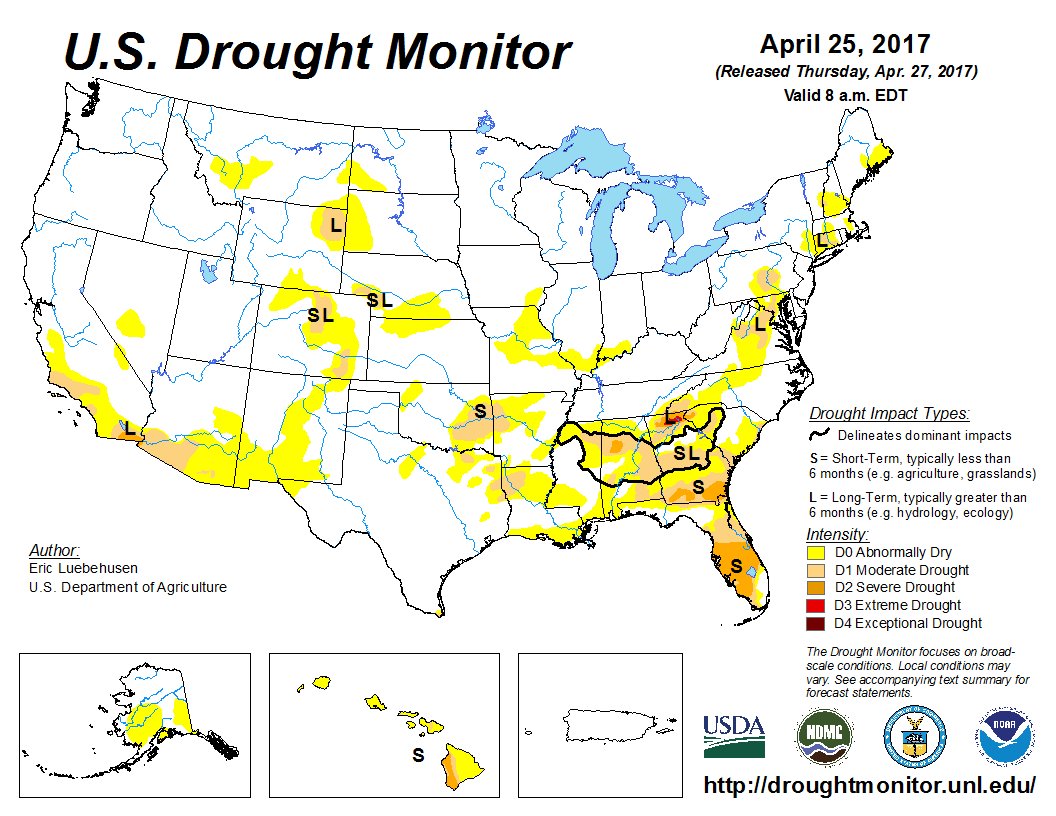 Former Vice President Al Gore has made extreme weather warnings a staple of his climate change activist. See: Al Gore on the Weather: 'Every night on the news now, practically, is like a nature hike through the book of Revelations'
But it is not just droughts that are at or near record levels. On almost every measure of extreme weather, the data is not cooperating with the claims of the climate change campaigners. Tornadoes, floods, droughts, and hurricanes are failing to fit in with the global warming narrative. 
Below is a complete rundown of the very latest on extreme weather conditions: Update data from the 2016 Climate Depot report: Skeptics Deliver Consensus Busting 'State of the Climate Report' to UN Summit
Extreme Weather: Scientist to Congress in 2017: 'No evidence' that hurricanes, floods, droughts, tornadoes are increasing – Dr. Roger Pielke Jr. of University of Colorado

Tornadoes: NOAA Tornado data revealing 2016 as 'one of the quietest years since records began in 1954' and below average for 5th year in a row

Hurricanes: 1) Inconvenient NOAA report: 'It is premature to conclude (AGW has) already had a detectable impact on' hurricanes & 2) NOAA: U.S. Completes Record 11 Straight Years Without Major (Cat 3+) Hurricane Strike & 3) 30 peer-reviewed scientific papers reveal the lack of connection between hurricanes & 'global warming'

Floods: 'Floods are not increasing': Dr. Roger Pielke Jr. slams 'global warming' link to floods & extreme weather – How does media 'get away with this?' – Pielke Jr. on how extreme weather is NOT getting worse: 'Flood
…
By Anthony Watts
Inconvenient data for those who still insist climate change is making hurricanes more frequent is displayed in these two slides from Dr. Philip Klotzbach. As noted by Dr. Roger Pielke Jr. The bottom dropped out of US hurricanes over the last 10 years.
CommonDreams.org quoted Al Gore back in 2005:
… the science is extremely clear now, that warmer oceans make the average hurricane stronger, not only makes the winds stronger, but dramatically increases the moisture from the oceans evaporating into the storm – thus magnifying its destructive power – makes the duration, as well as the intensity of the hurricane, stronger.

Last year we had a lot of hurricanes. Last year, Japan set an all-time record for typhoons: ten, the previous record was seven. Last year the science textbooks had to be re-written. They said, "It's impossible to have a hurricane in the south Atlantic." We had the first one last year, in Brazil. We had an all-time record last year for tornadoes in the United States, 1,717 – largely because hurricanes spawned tornadoes.
Since Katrina, climate activists have beat a steady drumbeat warning of doom.
But data based facts, they are stubborn things:
…